Temple Emet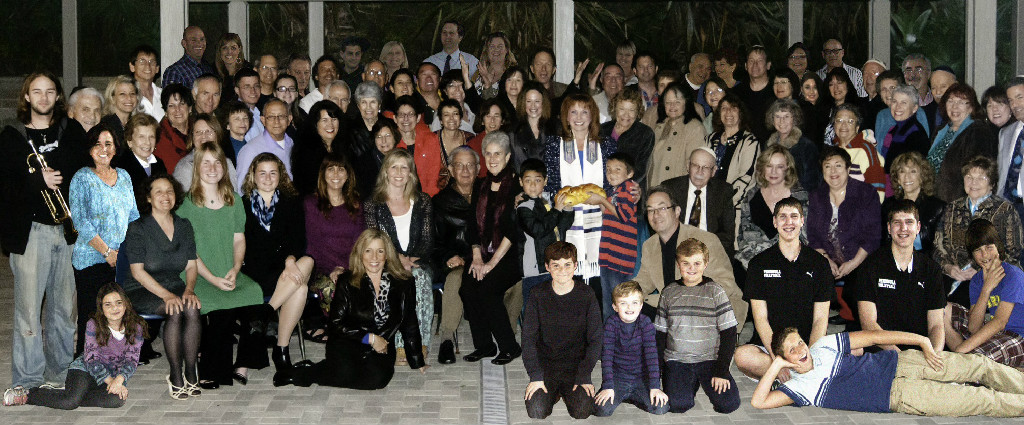 WELCOME FROM RABBI/CANTOR DIDI!
Happy (secular) New Year!
We have so much to look forward to in 2015! Our new building is coming along as we eagerly anticipate getting back to our regular routine of services and classes, ready to explore exciting new offerings.
Life is not without challenge and anything truly worth having is worth waiting for.
Our upcoming Bat Mitzvah girl (Sascha) and her family are among the best examples of patience and willingness to go with the flow I have ever seen.
It is important in life to recognize that we are not in charge. We need to be proactive, always pushing forward realizing that as much as we plan - we cannot control time. It is in God's hands and (in the case of our building) the city inspectors and Southern California Edison.
God may have created light and it was good, however, we must wait for inspections and sign offs in order to turn on the lights in our new home.
For now, as 2015 begins, we can focus on the light within the home of our own being and look ahead with patience toward the promise of what this year may bring for us individually and as a community.
We should be grateful for the gifts we have received and the great mystery of life and spirituality that await us as we anticipate our future together.
Sascha's Bat Mitzvah will be announced when we have sign offs from the city and know the exact date we will have electrical power and a Certificate of Occupancy.
In the meantime, we are very grateful to the PUC for their willingness to work with us on our needs for Religious School and services. We must be flexible with our scheduling accommodating theirs as well.
We will have one service in January on Friday the 23rd at the PUC at the usual time of 7:30pm. Sascha will lead the prayers and chant the first day of creation from our Torah (with her Grandmother standing by) as we look ahead to the creation of our new beginning together filled with promise.
Our Religious School will also continue at the PUC on Wednesdays, at the usual time, until further notice.
Hopefully, February will be the month we move in. We will keep you posted. Please check your email for updates.
Our time here on Earth can be short and certainly unexpected. I did two funerals at Hillside this past month for a family and facilitated as a young girl bravely buried her Stepfather and Father within a matter of weeks. Below is something she found (taped above a light switch) in her father's home.
As we make our resolutions for 2015, let us contemplate the following words about what it means to be human.
Let us focus on the light within our own souls and what we are meant to manifest within and with each other.
Let us go forward with faith, fueled with the promise and passion of our Divine destiny.
B'ahavah (with love) and best wishes for the New Year, may it be filled with blessing!

~ Rabbi Didi

--------------------------------------------------
The Rules for Being Human
1. YOU WILL RECEIVE A BODY. You may like it or hate it but it is yours for the entire period this time around.

2. YOU WILL LEARN LESSONS. You are enrolled in a full time informal school called life. Each day you will have the opportunity to learn lessons. You may like the lessons or think them irrelevant or stupid.
3. THERE ARE NO MISTAKES, ONLY LESSONS. Growth is a process of experimentation. The "failed" experiments are as much a part of the process as the experiment that ultimately "works".

4. A LESSON IS REPEATED UNTIL LEARNED. A lesson will be presented to you in various forms until you have learned it. When you have learned it, you can then go to the next lesson.
5. LEARNING LESSONS DOES NOT END. There is no part of life that does not contain its lesson. If you are alive, there are lessons to be learned.
6. WHAT YOU MAKE OF YOUR LIFE IS UP TO YOU. You have all the tools and resources you need, what you do with them is up to you. The choice is yours.
7. YOUR ANSWERS LIE INSIDE YOU. The answers to life's questions lie inside you. All you need to do is look, listen and trust.
--------------------------------------------------
May we, in this new year, elevate ourselves and humanity. May we be true to ourselves and in our actions. May the gift of being human be celebrated, explored, and shared. May our lessons learned illuminate a bright beautiful year filled with opportunity and blessing for our community and all the world ~ Rabbi Didi
Fri, 30 January 2015 10 Shevat 5775